Moutai Insitute Participated in Series of Activities of
2021 China-ASEAN Education Exchange Week
From September 23th to 24th, hosted by the Ministry of Foreign Affairs of China, the Ministry of Education of China, and the Government of Guizhou Province, and jointly sponsored by the Guizhou Provincial Department of Education and the Guizhou Provincial Foreign Affairs Office, the "2021 China-ASEAN Education Exchange Week" was held in the Gui'an New District.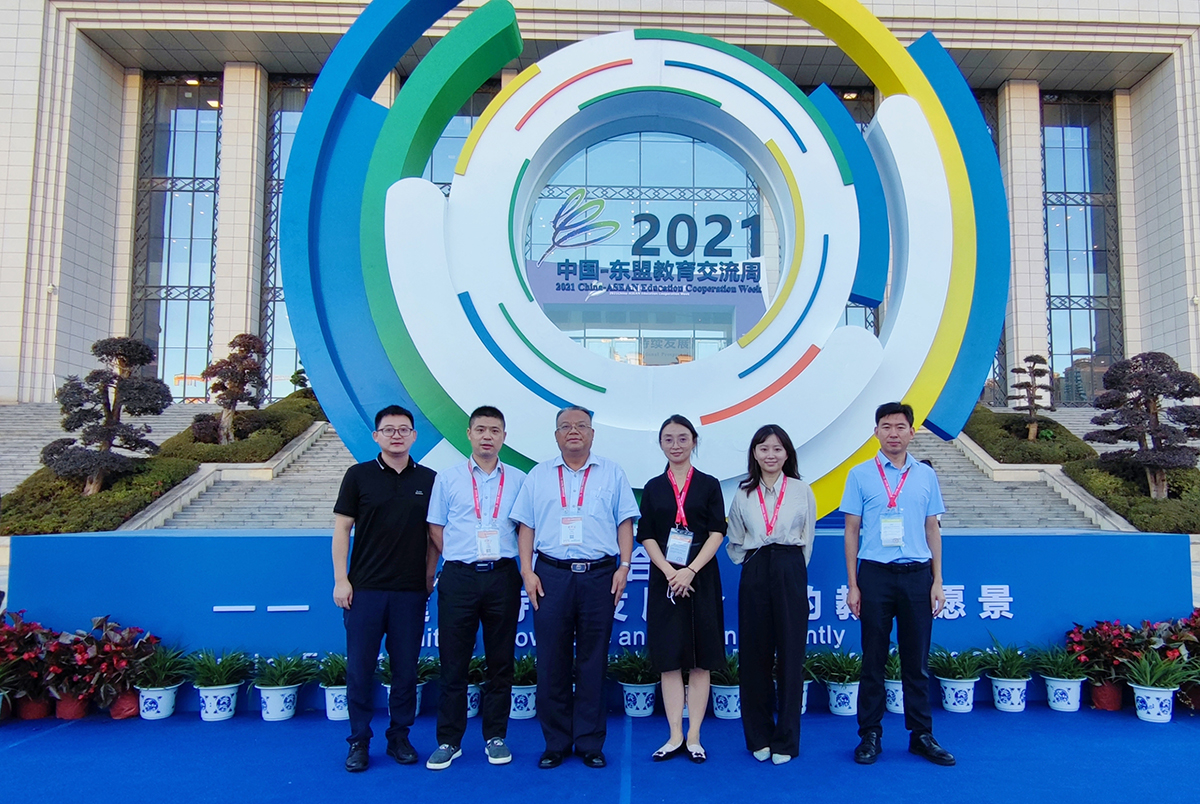 Li Zengchi, executive vice president of Moutai Insitute, and Yu Li, Cheng Qing and Tian Wuxu,vice presidents, attended the series of activities in the education week, accompanied by relevant leaders of the Teaching Affairs Office, Evaluation Office, International Cooperation & Foreign Exchange Office.
The opening ceremony was held on the morning of September 24th. With the theme of "Integration of Knowledge and Action--Jointly Establishing Education of Sustainable Development", China and the Ministers of Education of ASEAN, the principals of universities at all levels, experts and scholars, diplomatic envoys and other guests attended the ceremony with both online&offline methods. Li Zengchi attended the ceremony as a representative of Moutai Insitute.
In the afternoon, Li Zengchi and Yu Li attended the "Central and Western Higher Education Service Capability Improvement Forum in the New Era ". At the meeting, they shared the construction of first-class universities in the new era, the construction of new engineering, new medicine, new agriculture, and new liberal arts, the ideas of improving service capabilities and talents cultivation, which triggered an upsurge in reflecting on the positioning and planning of the university among attendants.
Cheng Qing attended the "the Fourth Annual Meeting of China-ASEAN University Innovation and Entrepreneurship Education Alliance". During the meeting, Cheng Qing signed the admission agreement on behalf of Moutai Institute. With the end of the licensing ceremony, it marked our school's successful participation in the "China-ASEAN University Innovation and Entrepreneurship Education Alliance". The alliance is voluntarily formed by institutions of higher learning in China and ASEAN countries. It is a community that organizes in-depth cooperation and win-win development in the field of innovation and entrepreneurship education, platform construction, talent exchange, and information sharing.
Tian Wuxu attended the "China-ASEAN Business Talent Cultivation Forum of Environment Governance ". It jointly focused on the "World-class Business Environment Optimization and Improvement Path", "China-ASEAN Business Environment Co-construction" and other hotspots and also cutting-edge issues. Moutai Institutee joined the "China-ASEAN Business Environment Governance Research Center" as the first member. The center is jointly established by universities, government agencies, consulting companies, and research institutions of China and ASEAN countries to study business environment governance issues in the process of China-ASEAN economic and trade cooperation and regional economic integration.
Participating in this series of activities, helped Moutai Institute to actively integrate into the ASEAN education platform, and further strengthened the exchange &cooperation between the school and other universities and research institutions both home and abroad. (Contributed by the Office of International Cooperation and Foreign Exchange)
Translated by:Tu Wen
Edited by: Li Mi
Original link :http://mtxy.edu.cn/a/xueyuanxinwen/xyyw/2021/0926/4530.html